The 
More Than Words
 workshop certifies you to lead 
More Than Words -- The Hanen Program® for Parents of Children on the Autism Spectrum
, a family-centered, social–pragmatic intervention program for parents of young children with Autism Spectrum Disorder.
Its goal is to build capacity in parents so they can play a primary role in facilitating their child's social, communication, and vocabulary development.
In leading the 
More Than Words
 Program, the Hanen Certified SLP helps parents:
Identify their child's social communication skills and stage of communication
Use the above information to set realistic and appropriate communication goals collaboratively with the SLP
Use everyday routines and play activities as contexts for building the child's social and communication skills
Structure the child's environment to increase his motivation and opportunities to communicate
Facilitate the development of social communication, including joint attention, within pleasurable, extended interactions
Facilitate the development of imitation
Use visual aids and print to build the child's understanding
Fine-tune their language input to foster expressive and receptive language development
Facilitate their child's play skills
Help their child make friends
► Practical tools and strategies for building functional, social communication
The 
More Than Words
 workshop provides the speech-language pathologist with highly practical tools for helping parents understand their child's challenges and strengths and well-defined strategies for building both social and communication skills. Participants learn how to show parents how to accommodate their child's sensory preferences, provide the structure and predictability that help their child learn, and integrate the strategies that support their child's social interaction and communication into everyday activities and routines. With this support, parents become engaged and empowered.
The workshop includes program resources that can be used to:
Lead More Than Words® -- The Hanen Program for Parents of Children with Autism Spectrum Disorder – The workshop includes all the materials you need to offer this evidence-based program to groups of families. The entire program is packaged, planned and manualized to make it as simple and straightforward as possible to facilitate for families.
Support home programming and therapy sessions – More Than Words strategies can be easily integrated into one-to-one consultations and home programming.

Let op: Naast uw inschrijving via deze site, dient u zich ook te registreren bij het Hanen Centre. 
Eenmalige mogelijkheid om dit certificaat in Nederland te behalen! 
Programma
More Than Words is a 4-day workshop consisting of approximately 8 hours of training per day (excluding scheduled breaks). In a small group, SLPs participate in experiential, hands-on activities as the instructor guides them through the process of teaching adults in the context of a parent group in a More Than Words Program, as well as in the context of everyday clinical practice. In a supportive environment, SLPs have the opportunity to practice each component of the teaching process and to self-evaluate, as well as to receive constructive feedback from the instructor.

Kijk hier voor het programma per dag.
Doelgroep
Ervaren logopedisten/qualified speech-language pathologists/therapists.
Leerdoelen
Upon completion of the More Than Words Certification Workshop, SLP/Ts will be able to:

Describe the current research on prevalence, biology and diagnosis of ASD
Describe current intervention approaches for children with ASD and how More Than Words integrates principles of best practice in the treatment of children with ASD.
Select appropriate communication goals for individual children with ASD based on assessment of the child's social and communication skills
Apply principles of adult education to provide parents with the training, information and support they need to become their child's primary communication facilitator
Teach parents to apply communication facilitation strategies that are specifically adapted to the individual needs of their child with ASD flexibly and across contexts
Assess videotaped parent-child interactions and provide personalized coaching and feedback in order to facilitate parents' application of program strategies within everyday interactions with their child
Lead More Than Words – The Hanen Program® for Parents of Children with Autism Spectrum Disorder
Literatuur
Included in your workshop fee is the following full set of More Than Words resources:

More Than Words Making Hanen Happen Leaders Guide – This manualized guide includes information on Hanen's teaching methodology, and provides a detailed guide to leading the program, session by session. It includes all the handouts and checklists required to lead the program.
More Than Words PowerPoint slides DVD with embedded video clips – This DVD contains the presentation slides for all sessions of the program, and includes real-life video examples of parents usingMore Than Words strategies
More Than Words Parent Guidebook (Sussman, 2012) – The Parent Guidebook is used during the program to reinforce what parents learn in the group sessions and provide them with helpful reminders and new ideas. It is also helpful for use in individual sessions with parents.***
More Than Words companion DVD – This DVD contains real-life examples of parents using More Than Words strategies and may be used to support individual consultations or home programming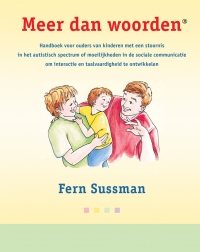 *** De engelstalige versie van het boek wordt in de cursus vervangen door de Nederlandse vertaling Meer dan woorden
Accreditatie
Participants receive accreditation of their "Certified" status upon signing a Cooperative Agreement (this agreement licenses SLPs to lead More Than Words® — The Hanen Program® for Parents of Children with Autism Spectrum Disorder). Participants also receive a one-year renewable Hanen membership upon completion of the workshop. To maintain their certification and have full access to member benefits, SLPs must renew their Hanen membership annually for a nominal fee. Note: Full attendance at all days of the workshop is required in order to receive your certification.
Deze training (ID 282535) is door ADAP geaccrediteerd en levert  25 punten op voor NVLF leden. 
U ontvangt tevens een certificaat van de Logavak Opleidingsgroep.

Voorwaarden
Op dit aanbod zijn de algemene voorwaarden van Logavak Opleidingsgroep BV van toepassing.
Aanvullend
In order to attend the workshop, all registrants must complete a Pre-workshop Assignment. A link to the assignment will be sent to you after registration. This assignment covers important content that is needed in order to participate in the workshop and receive your certification. For this reason, its completion is mandatory.
Note: The Pre-Workshop Assignment must be completed at least five days before the start date of the workshop. If it is not completed, you will not be permitted to attend the workshop. Any refunds will be subject to the cancellation policy of the host organization – up to and including forfeiture of your registration fee.

Info: Link naar  de Pre-workshop Assignment
Inschrijven Hanen Centre: Link naar inschrijving Pre-workshop Assignment